Pizza Slices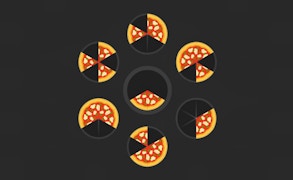 Pizza Slices
Welcome, fellow gamers and puzzle enthusiasts, to our space where we dissect and share insights about the latest, most engaging games in the market. Today, we delve into the red-hot world of Pizza Slices, a deliciously challenging entrant into the realm of brain games and cooking games that promises not just fun but a distinct stimulation for your grey cells.
From the first splash screen to the intricate play levels, Pizza Slices lures us into a virtual pizzeria where our mission is not just to concoct an appetizing pizza but also to align its slices in the most strategic manner. Yes, you heard it right! This isn't just a cooking game; it's a gamified testing ground for your cognitive abilities.
Drenched in vibrant colours and peppered with lifelike textures, the graphic design of Pizza Slices adds layers of authenticity that submerge you deeper into its culinary world. But don't be fooled by its mouth-watering aesthetics. The game's real charm lies in its carefully structured puzzle-solving component that keeps your neurons firing on all cylinders.
As an ideal permutation of brain games and cooking games, Pizza Slices invites players to exercise their problem-solving skills while they journey through its captivating pizza-making process. The puzzles are neither too simplistic to bore you nor too labyrinthine to overwhelm you. There is a fine balance that escalates as per your progress, thereby keeping you hooked for hours.
In conclusion, Pizza Slices is an addictive puzzle game that serves up a veritable feast for both your mind and eyes. Its pleasing visuals blend seamlessly with challenging brain exercises, making it an irresistible pick for fans of both brain games and cooking games alike. So strap on your virtual apron, flex those brain muscles and dive headfirst into the gripping world of Pizza Slices.
What are the best online games?
TAGS