Pixelcraft Hidden Diamond Blocks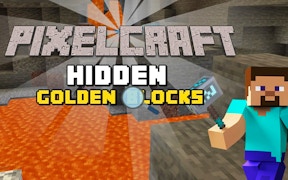 Pixelcraft Hidden Diamond Blocks
Prepare to embark on an exciting brain-boosting adventure with the online game, Pixelcraft Hidden Diamond Blocks. A mesmerizing concoction of Minecraft Games and hidden object games, this engaging pixel game will surely captivate lovers of puzzle genre.
As a treasure hunter in the pixel world, your task is straightforward yet far from simple - to seek out hidden diamond blocks nestled within specified images. Each of the 6 levels presents a unique challenge for your intellect as you face the task of uncovering 10 concealed gems per stage. Accept this thrilling test to your problem-solving prowess and wits- it is undoubtedly a class apart from conventional brain games.
Pixelcraft Hidden Diamond Blocks, true to its title, ensures that accuracy and precision are pivotal to success. With a ticking time limit pushing you towards haste, each misplaced click will cost you precious seconds. The strain intensifies as repeated errors eat into your countdown further by five seconds. However, these elements don't detract from the enjoyment of the game; rather, they add an extra layer of adrenaline-inducing fun!
If you are on the hunt for a stimulating brain teaser that seamlessly blends Minecraft's familiar pixel-based aesthetic with hidden object games' mystery and suspenseful allure, then Pixelcraft Hidden Diamond Blocks is made just for you.
This game challenges not just your analytical skills but also heightens your sense of observation. So gear up to plunge into this immersive realm where every corner holds a secret waiting to be revealed!
What are the best online games?