Pixel Panic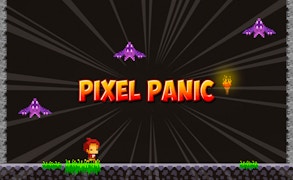 Pixel Panic
Description
In Pixel Panic, you're transported into a nostalgic pixel-world teeming with dangerous bats. This arcade-style game takes a page from classics like Space Invaders but introduces its own unique twist. Your mission is simple yet nerve-wracking - dodge the relentless swarm of bats and stay alive! Every second counts, making every move critical! You must have sharp reflexes and smart strategies to survive in this thrilling game.
How to play
This tap-and-move game requires only a click or a touch to control your character's direction. Swiftly move across the screen, tactically positioning yourself to avoid the incoming bats. Be sure to stay vigilant - one wrong move and it's game over! The longer you last, the higher your score.
Tips and Tricks
Bats may come from any direction, be ready to switch directions quickly. Don't get cornered - always look for open spaces on the screen to navigate through. Remember, practice makes perfect - with each playthrough, you'll learn more about bat patterns and improve your survival strategy.
Features
Retro Pixel Art: Enjoy nostalgic pixel graphics reminiscent of classic arcade games.
Addictive Gameplay: Quick rounds and simple controls make for an endlessly addictive experience.
Fierce Opponents: Face off against relentless swarms of pixelated bats that are out for your downfall.
Skill-Based Scoring: Your survival time directly translates into your score, rewarding strategic maneuvers and quick reflexes.
What are the best online games?