Pixel Crash 3D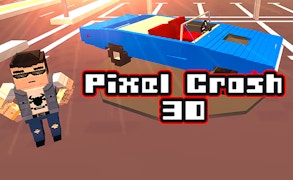 Pixel Crash 3D
If you have a craving for pixel art and a thirst for adrenaline-filled racing experiences, then your gaming radar must point toward Pixel Crash 3D. This electrifying hybrid of car games and pixel games is a bold testament to the charm of retro aesthetics and the thrill of high-speed competition.
Unleash your skills in one of the most intense drifting games to ace those corners like a pro. But Pixel Crash 3D is not just any driving simulation - its fusion of driving games with battle elements catapults it to a whole new level of excitement. The highway becomes your battlefield as you evade, outspeed, and ram your opponents off the course. The joy of victory is sweet, but in Pixel Crash 3D, it comes with the added satisfaction of seeing your rival's vehicle shatter into pixelated debris.
While its visual appeal draws you in, it's Pixel Crash 3Ds cutting-edge gameplay that keeps you hooked. A perfect union of driving precision, strategic maneuvering and competitive intensity, this game reiterates that the beauty of pixel games goes beyond their nostalgic charm. The advanced AI opponents will test your mettle at every turn promoting thrilling gameplay that will undoubtedly evoke heated racing bouts amongst friends.
To summarize, Pixel Crash 3D is an engaging epitome of car games that seamlessly marries drifting games finesse, battle dynamics, and impeccable pixilated artistry. Whether you're a seasoned gamer seeking new challenges or a newbie looking for an immersive introduction into car simulations – this game races onto the scene with full-throttle entertainment.
What are the best online games?