Pixel Craft Match 3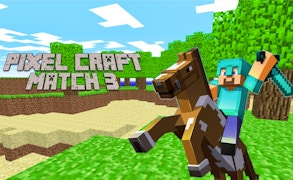 Pixel Craft Match 3
Immerse yourself in the alluring world of match 3 games with the mesmerizing Pixel Craft Match 3. This innovative pixel game is not just a typical match 3 game, but an intriguing blend of strategy and logic that will keep you hooked for hours on end. Oozing with the charm reminiscent of Minecraft games, Pixel Craft Match 3 cleverly combines classic puzzle mechanics with an enchanting pixelated universe.
The key objective here is simple - align blocks of the same color in a series of three or more, aiming for the highest possible score. But there's a catch; you need to keep an eye on the scale to your left. Let it fall too low and, alas, your game is doomed. This element of danger adds an adrenaline-filled edge to an otherwise relaxed gameplay, making it appeal to both casual gamers and hardcore strategists.
The visuals are vibrant yet soothing, with a touch of nostalgia reminding you of your favorite old-school Minecraft Games. Each block pops with color and character in this beautifully rendered pixel game. The sound effects and background music complement the visuals perfectly, creating a serene ambiance that adds depth to your gaming experience.
Pixel Craft Match 3 is a versatile addition to the realm of match 3 games that offers challenging gameplay along with compelling sonics and graphics. Whether you're looking to kill time or flex those mental muscles in pursuit of a high score, this game packs enough punch for all types of gamers.
In conclusion, Pixel Craft Match 3 encapsulates all that's fabulous about match 3 games, pixelated games, and even takes cues from popular sandbox game aesthetics like Minecraft. It's engaging, visually delightful, and surprisingly deep – definitely one worth adding to your gaming repertoire.
.
What are the best online games?