Pixel Christmas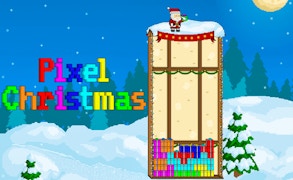 Pixel Christmas
Description
In Pixel Christmas, experience the magic of the holiday season through colorful pixel art. Gifts drop from the sky, filling your screen with Christmas delight! But wait, there's a catch! Each gift must be strategically arranged to make room for more. The screen loads up with presents, leading to an engaging puzzle to unwrap, boosting your score!
How to Play
You'll need some quick reflexes and a sharp eye to excel in Pixel Christmas. Control the falling gifts using your keyboard or mouse, arranging them as efficiently as possible. The objective is to keep freeing up space on your screen for new gifts while boosting your score. As you progress through the game, the boxes fall at an increased pace!
Tips and Tricks
Mastering Pixel Christmas requires forward planning and spatial awareness. Match similar gifts together for bonus points. Clear multiple lines at once for a substantial score boost. But always remember that it's about the overall strategy - don't focus too much on individual moves!
Features
Aesthetically pleasing pixel-art graphics, capturing the Christmas spirit perfectly.
Addictive gameplay, requiring strategy and speed.
Evolving difficulty, becoming more challenging as you progress.
Festive audio tracks, adding immersive holiday cheer.
What are the best online games?
Tags