Pivot Strike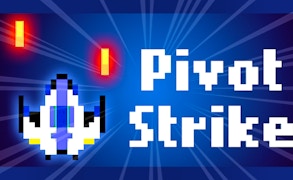 Pivot Strike
Description
"Pivot Strike" is a thrilling, skill-oriented battle game with unique mechanics. Players control two ships, one red and one blue, strategically maneuvering them to destroy corresponding colored enemies. The gameplay offers interesting dynamics by alternating between double fire rate when the leading ship is aligned with the enemies, and half fire rates when the two ships are side by side.
How to play
The game uses simple touchscreen controls: A one-touch drag moves your ships around, while a tap on the screen pivots them. The Blue Ship obliterates blue enemies and can absorb red bullets while the Red Ship deals with red enemies and can take in blue bullets. Remember, your lead ship has double fire rate, so line it up strategically.
Tips and Tricks
To maximize efficiency, always align your leading ship - which has a double fire rate - with incoming enemies of the same color. You can also tactically use your ships to absorb enemy bullets of the opposing color to avoid damage.
Features
Dual-controlled Ships: Control both red and blue ships simultaneously for a challenging gameplay dynamic.
Pivot Mechanism : Allows tactical repositioning of ships with a simple tap.
Bullet Absorption: Ships can absorb opposing color bullets for a strategic edge.
Trophy System:: Achieve high scores to unlock trophies and enhance your gaming experience.
What are the best online games?