Pirate Fishing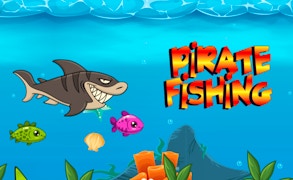 Pirate Fishing
Description
In Pirate Fishing, you'll step into the boots of a fearless seafaring pirate whose main mission is to fish and gather as much loot as possible! It's not just about casting your line into the deep blue ocean - this game offers an addictive mix of action and puzzle elements, challenging you to strategize, analyze, and react quickly to hit top scores. Become the most accomplished pirate in this enticing fishing game!
How to play
Playing Pirate Fishing is engaging yet straightforward. Use your mouse to cast the fishing line into the sea, wait for a bite, then reel it in quickly before it escapes. Each successful catch adds to your score, testing your skills as you progress further in the game. Show off your pirate prowess by continuously improving and beating your high scores!
Tips and Tricks
To excel in Pirate Fishing, you need patience and timing. Don't rush to reel in your catch - instead, wait for the perfect moment when it bites for a guaranteed catch. Keep an eye out for rare sea creatures and treasures that yield higher points! Remember, quick reactions and strategic planning are key!
Features
Exciting mix of puzzle and action gameplay mechanics.
Simple yet engaging controls using only a mouse.
Rewarding progression system with high score challenges.
Vibrant graphics bringing the pirate-themed fishing adventure to life.
Diverse underwater world with a variety of catches to chase after.
What are the best online games?