PinoBlu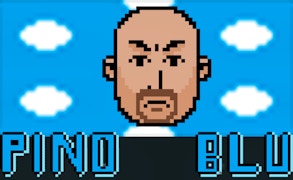 PinoBlu
Description
In PinoBlu, you step into the shoes of Pino, a ravenous character in an engrossing pixel world. Your task is to help him eat as many people as possible while collecting coins. However, beware of the malicious credit cards which can cause Pino to lose all his hearts. The game's difficulty scales up as you progress, creating a challenging yet entertaining retro 2D experience.
How to play
Playing PinoBlu is a straightforward affair. Simply tap or click on the screen for Pino to eat people and collect coins while avoiding credit cards. Each missed person costs you one heart, and eating a credit card results in losing all hearts. Use your collected coins to customize Pino and the background, creating a personalized gaming experience.
Tips and Tricks
Maintaining steady rhythm and concentration is key in PinoBlu. Do not rush; instead, strategize your timing for each person and coin, and evade the credit cards carefully. Spending your earned coins wisely on useful skins can make your journey easier.
Features
Retro-inspired pixel art design that offers nostalgia.
Intuitive tap or click-based controls.
Scaling difficulty for challenging gameplay progression.
A plethora of skins available for customization using collected coins.
Diverse backgrounds that keep the visual appeal refreshing.
What are the best online games?