Pinball World Cup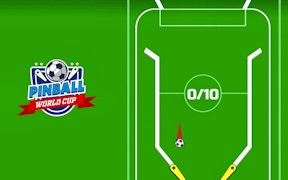 Pinball World Cup
Step onto the virtual pitch of Pinball World Cup, a fast-paced fusion of classic ball games and contemporary football action. Balancing the exhilarating pace of soccer games with the strategic nuance of pinball, this game crafts an experience that's as challenging as it is entertaining.
From the first kick-off, you're thrust into a vibrant world where every flipper hit can lead to an epic goal or an unfortunate own goal. Scoring 10 goals to claim victory in each level, players are granted the thrill akin to real-life football matches, positioning the title as one of the best world cup games available today.
The game's complexity lies in not just hitting the ball towards your opponent's goal but also in keeping your soccer ball within bounds. This unique blend of mechanics cements it among top-tier skill games. With over 20 levels to conquer, each filled with formidable opponents, your skills will be put to the ultimate test.
Apart from offering engaging gameplay, Pinball World Cup stands out for its approachability. The intuitive controls make it accessible not just for hardcore gamers but also for casual players looking for a quick match. Its friendly design transforms it into a perfect pick for family games, creating a bridge between generations.
In conclusion, Pinball World Cup is a brilliant reinterpretation of traditional soccer-centric titles that stands out among other football and soccer games on market. It offers hours of entertainment regardless if you're a soccer fan or simply someone who appreciates well-crafted skill games.
If you relish high-stakes competition and strategic gameplay in your sports titles, Pinball World Cup is definitely worth checking out.
What are the best online games?