Pill Soccer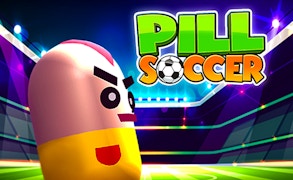 Pill Soccer
Are you ready for an outrageous football tournament unlike any other? Pack your team spirit and competitive edge and dive into the world of Pill Soccer, a game that combines the thrill of soccer games with the exuberant fun of ball games.
This is not your typical soccer match. Picture this: zany characters that seem to have jumped straight out of a comic book, striving to score goals by hitting the ball not with their feet, but their heads! The result is a colorful kaleidoscope of action and laughter, an explosion of fun games charm that will keep you glued to your screens.
One minute is all it takes to appreciate the intricacies of Pill Soccer. A 90-second challenge filled with speed, strategy, and special powers that can turn the tide in an instant. As a player, you'll need to anticipate your opponents' moves, heading the ball at just the right time to net that crowd-roaring goal. Discover wonderful rewards as you indulge in exciting daily tasks in this ball game.
But be warned - spend too much time at the net and face the wrath of a lightning bolt striking down on your character's head. It's a battle against time as much as it is against your opponents!
The best part about Pill Soccer? You don't have to keep the fun all to yourself. With its 2-player mode, this game skyrocket among two-player-games, giving you opportunities to challenge your friends at home or at school. Not only will it test your reflexes, but it will also sure stoke up friendly rivalry.
Pill Soccer is an entertaining blend of skill, fun and zaniness that will keep you coming back for more. So what are you waiting for? Join the football tournament of funny heads today!
What are the best online games?