Pickup Simulator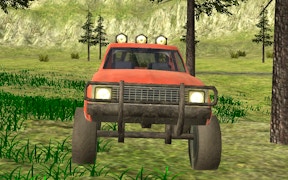 Pickup Simulator
Get ready to immerse yourself in the high-octane, adrenaline-rushing universe of Pickup Simulator, the latest superlative addition to the pantheon of car games, truck games, and simulator games. This innovative title redefines the genre of driving games by transporting gamers into the heart of an enthralling offroad experience.
Pickup Simulator exceeds expectations by not just allowing you to control and maneuver a pickup truck but also offering a multitude of challenging parking missions. The intense missions will test your mettle, pushing your driving skills to their limits in uncharted terrains. This feature elevates Pickup Simulator from being a mere game to an engaging test lab for your driving abilities.
The environment is one of Pickup Simulator's standout features. It expertly crafts a picturesque mountain area that you can freely explore. Take time off your challenging missions and embark on scenic offroad adventures. This careful attention to detail makes it one of the best offroad games out there.
The seamless blend of challenge and exploration, coupled with the realistic driving physics, makes Pickup Simulator a must-play for lovers of car games or simulator games alike. It's not just about speed – it's about finesse, control, and endurance as well.
In conclusion, Pickup Simulator is more than worth your time; it's a benchmark in racing games due to its well-rounded capabilities. Its high replay value and captivating mechanics make it a masterpiece amongst other driving games—perfect for any adrenaline junkie ready to tackle the thrill of offroad racing.
What are the best online games?