Pick the Green!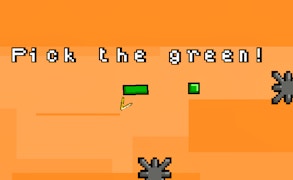 Pick the Green!
Description
In Pick the Green!, you take on the simple yet challenging role of a green square navigating through a maze filled with obstacles. Your mission is to safely reach the next green square while avoiding all impediments. The game engages players with its endless arcade-style gameplay where quick reflexes and strategic planning are essential to success.
How to play
The controls in Pick the Green! are easy to master, merely requiring directional keys or swipes for movement. Avoiding the array of obstacles is your main objective, while constantly moving towards the target green square. Timing and precision are key; one wrong move can quickly end your game.
Tips and Tricks
In this game, patience pays off. Rather than rushing towards every green square, carefully analyze your path and avoid hasty moves that might lead you into obstacles. Remember, success in Pick the Green! depends on your ability to balance speed with caution.
Features
Simple yet challenging gameplay: Though it only involves picking green squares, mastering this game requires strategy and precision.
Easily understandable rules: No complex rulebooks or guides necessary - just pick up and play!
Arcade-style design: With its endless style of play, Pick the Green! will keep you engaged for hours on end.
What are the best online games?
Tags