Physics Knife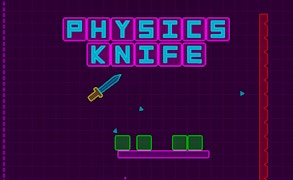 Physics Knife
Description
In Physics Knife, experience the thrill of handling a knife in a virtual world. The game offers a realistic and immersive environment where your blade can slice, stab, and rotate just like it would in real life. Explore inventive ways to use your weapon within the game's intricately designed physics-based mechanics.
How to play
The gameplay in Physics Knife is intuitive and easy to learn. Your mouse controls all actions such as throwing and rotating the knife. As you progress, more challenges will be introduced that will test the precision of your aim and the timing of your throws. Remember, practice makes perfect!
Tips and Tricks
Use a fine balance between precision and power. Too strong a throw might make you miss your target, while too weak might not reach it at all. Try different angles and throwing styles to overcome each challenge.
Features
Realistic Physics: Enjoy an astonishingly accurate simulation of knife dynamics.
Variety of Challenges: Many levels with unique objectives keep the game fresh and exciting.
User-friendly controls: Easy mouse-based actions make for an intuitive gameplay experience.
Addictive Gameplay: A steadily increasing difficulty curve keeps players constantly engaged.
What are the best online games?
Tags