Petzoong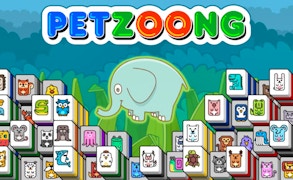 Petzoong
Description
Discover the joy of matching in Petzoong, a visually charming mahjong board game designed for children. The game features a vibrant backdrop of adorable animals with an array of distinctive mahjong pairs. The objective is to locate and pair the identical mahjong tiles and clear the board to advance to the subsequent levels.
How to Play
In Petzoong, all you need is a keen eye and quick reflexes. Navigate through the board using your mouse or touchpad. Click or tap on a tile to select it, then find and select its identical match to eliminate them from the board. The level is completed when all mahjong pairings have been removed.
Tips and Tricks
Pay close attention to the board layout and plan your moves accordingly. Remember that not all pairs are immediately available for matching, some are blocked by other tiles. Also, try to remove tiles strategically so as not to be caught in a dead-end situation where no more moves are available.
Features
Engaging Gameplay: The game offers numerous levels, each with a unique layout that encourages strategic thinking.
Cute Animal Design: Petzoong's distinct animal-themed aesthetic appeals to kids and makes for an enjoyable gaming experience.
Friendly Interface: The easy-to-use interface makes it simple for children of all ages to pick up and start playing immediately!
What are the best online games?