Petits Chevaux Small Horses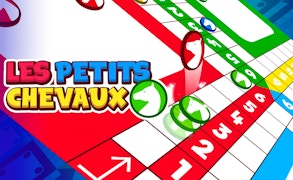 Petits Chevaux Small Horses
Description
Experience the nostalgic thrill of a classic childhood board game with Petits Chevaux Small Horses. This game is an uncomplicated yet engaging test of strategy and luck, aimed at putting all your horses in the central box before your opponents. Play alone against intelligent AI or make it a fun group activity by challenging your friends!
How to play
Engage in this exciting game by selecting 1 to 4 players. Move your little horses around the board based on dice rolls, with the objective of getting all your horses into the central box before anyone else. Remember, each move needs to be calculated well, as you could get sent back to start!
Tips and Tricks
In order to excel at Petits Chevaux Small Horses, keep a steady pace and be patient. Don't rush to get all your horses out at once, instead focus on progressing one horse at a time. Critical thinking and just a bit of luck could pave the way to victory.
Features
Multiplayer Game: Play in solo mode or invite friends for an entertaining match.
Retro Design: The classic board and small horses bring back nostalgic memories.
Sophisticated AI: A challenging opponent when playing solo.
Free to Play: Enjoy this classic game without limitations.
What are the best online games?
Tags