Pet Connect Game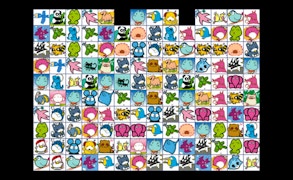 Pet Connect Game
Immerse yourself in the captivating realm of animal games with the enchanting Pet Connect Game. This delightful board game is more than just an indulgence for pet lovers. It is a wondrous blend of strategic thinking, quick reflexes, and an absolutely addictive gaming experience.
At its core, Pet Connect is a refreshing take on classic mahjong games, transforming them into a fast-paced puzzle game that will engage both your brain and your heart. Your mission, should you choose to accept it, is to clear the board of all tiles. Sounds simple? Here's the catch - you can only remove tiles by linking identical pairs. The challenge is in finding these pairs amidst a sea of captivating pet faces before time runs out! Are you up for the task?
Every level of Pet Connect springs forth with an array of tiles adorned with various adorable pets. It's like a delightful journey through a virtual pet store where every animal begs for your undivided attention. But remember, time is ticking and each level brings with it exciting new challenges! And let's not forget about the aesthetics - visually appealing and vibrant graphics make navigating through this jungle of critters an absolute pleasure.
Pet Connect Game stands as an exemplary representation of animal games, taking this genre to unchartered territories. It combines the fundamental elements of classical mahjong games and fuses them with a unique twist - creating an unforgettable gaming experience.
In sum, whether you're a board game enthusiast or simply someone who can't resist the appeal of those puppy dog eyes and kitten's purrs, Pet Connect Game is designed to capture your heart while testing your cognitive agility and swiftness. It's time to dive into this exciting maze of pets and indulge in hours of endless fun.
What are the best online games?