Pet Connect 2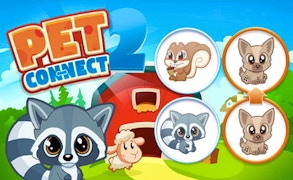 Pet Connect 2
Get ready to embark on a delightful journey with our delightful review of Pet Connect 2, an exuberant addition to the realm of games for kids that seamlessly combines the joy of animal games and the engaging strategies of match 3 games.
Distinctively designed to bolster the pattern detection skills of children, Pet Connect 2 takes you on a relaxed and engaging journey where you become friends with cute, little critters. Indeed, this game is a treasure trove of adorableness that transforms gaming experience into a charming escapade.
If you crave variety, Pet Connect 2 doesn't disappoint! It comes packed with 3 different game modes. Whether you fancy a quick game or want to lose yourself in an extensive puzzle-solving quest, Pet Connect 2 ensures there's always something for everyone. Even better, with over 30 puzzle stages, fun never ends; it just keeps escalating.
The charm factor can't be understated in these types of animal games. The delightful doodle-like illustrations are guaranteed to keep children and adults alike captivated as they match their way through this vibrant virtual world. But don't let its simplicity fool you! Though aimed at kids, adults too would find their grey cells being pleasantly challenged.
The beauty lies in its simplicity! You don't need to be an experienced gamer to enjoy Pet Connect 2. All it requires is a keen eye for patterns and a love for cute animals. With its kid-friendly interface and amusing sound effects, this game truly wears the crown in the kingdom of games for kids.
To conclude, if you're on the hunt for a captivating animal-themed match-3 game that professionally blends fun with cognitive development, look no further than Pet Connect 2 - an absolute gem in the world of kids' puzzle games!
What are the best online games?