Persia Prince Dash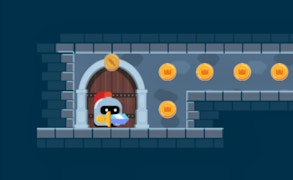 Persia Prince Dash
Immerse yourself in the enchanting world of Persia Prince Dash, a captivating Arcade sword game that sweeps you off your feet with its intriguing blend of adventure and puzzles. This game is a beacon for all those thirsting for an adrenaline-packed escape adventure experience, making it perfect for lovers of Hyper Casual Games.
This isn't your average run-of-the-mill title in the saturated market of escape games. You are positioned in the shoes of a fortitudinous prince, armored up to his hilt, dashing through perilous dungeon corridors. Your mission? To collect as many gold coins as possible while deploying deftness and agility to surpass deadly obstacles.
The controls are crisp and intuitive. Whether you prefer using the arrow keys or mouse control for movement, it's all about timing, precision and quick decisions. On every turn, you are faced with a puzzle to solve or an enemy to defeat – there's never a dull moment in this riveting journey.
The Prince is agile and swift with his sword, making this game a must-try for everyone who enjoys sword games. Every swing of his blade is satisfyingly smooth and each successful attack against enemies feels genuinely rewarding.
Persia Prince Dash wraps itself around you like a deftly woven Persian carpet. Its allure lies not just in its gameplay but also in its carefully calibrated combination of thrill, suspense and intellectual challenge. With each level surpassing the last one in terms of complexity, this game never fails to keep you on your toes.
Arcade games have rarely seen such intriguing fusion of sword-based action and escape-puzzle innovation. So put on your gaming hats and prepare yourself for an enthralling dash with the Persia Prince!
What are the best online games?