Penalty Shootout: Multi League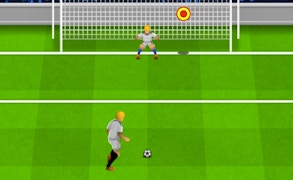 Penalty Shootout: Multi League
If you're a die-hard fan of football games, or more specifically, soccer games, then get ready to embark on a breathtaking journey as you dive headfirst into the captivating world of Penalty Shootout: Multi League. This exhilarating game perfectly captures the essence and thrill that real-life football brings, making it an absolute must-play for every gaming and football enthusiast out there.
The beauty of Penalty Shootout: Multi League lies in its simplicity yet thrilling gameplay. As soon as the game commences, you'll find yourself swept up in a whirlwind of adrenaline and excitement—it feels just like stepping onto the gleaming grass of a filled-to-the-brim stadium, with thousands of fans eagerly waiting for the suspenseful penalty kicks show to commence!
Here's where it gets even better: you get to choose your favorite team from a whopping 12 leagues! That's right, you're handed over the reins to control and guide your chosen team to snag that glorious trophy. Each kick is a shot at becoming a hero, each save is another step towards victory. The sense of anticipation, the rush of triumph—it's all just as tangible as if you were living it yourself on an actual football field.
The magic of Penalty Shootout: Multi League truly lies in how it adeptly blends in elements of strategy with real-time action. As such, not only do soccer games fans get to experience the thrill and adrenaline they crave for but also the strategizing and planning that come with every real-world soccer match.
In conclusion, if football runs in your veins and gaming forms an integral part of your soul, then don't miss out on Penalty Shootout: Multi League. Experience firsthand what it's like to be part of one of the most popular football games, immerse yourself in this stunning world where every kick determines your fate. Get ready to score some goals and make some saves because this game is calling out for its next hero!
What are the best online games?