Penalty Shootout: Euro Cup 2016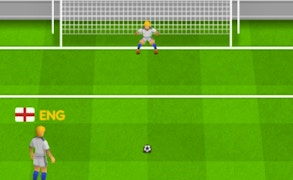 Penalty Shootout: Euro Cup 2016
Fans of football games and adrenaline junkies, welcome to the virtual realm of passion, precision, and power. Penalty Shootout: Euro Cup 2016 is a sports game that strategically feeds your competitive spirit and nurtures your love for football, or what some may call soccer games. We're talking about the ultimate battle of wits between you and the goalkeeper. This is not just a game, it's a test of courage.
This isn't your average football game. Penalty Shootout: Euro Cup 2016 offers the chance to step into the boots of your favorite soccer heroes from all corners of the world. The stakes are high in this digital colosseum where one goal can make all the difference between victory and defeat. Whether you're an amateur or a seasoned pro at soccer games, the excitement as you defend your goal is palpitous.
You'll find Penalty Shootout: Euro Cup 2016's graphics to be sharp and realistic, allowing for an immersive gaming experience that makes you feel like you're right in the heart of the stadium surrounded by roaring crowds. The game's responsive controls are intuitively designed keeping in mind the dynamics of actual penalty shootouts.
Moreover, scoring a goal in Penalty Shootout: Euro Cup 2016 offers more than just points - it delivers bucket loads of satisfaction with every successful strike. Each game tests not only your reflexes but also your strategic thinking as you decide your team's formation and adapt to your opponent's gameplay on-the-fly.
Penalty Shootout: Euro Cup 2016 is a compelling addition to any sports game enthusiast's collection, conjuring up a genuine World Cup atmosphere. So gear up sports fanatics! It's time to embrace this rollercoaster ride and put your gaming skills to test now!
What are the best online games?