Party.io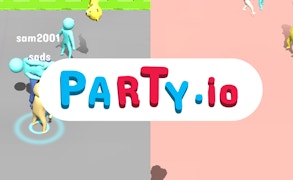 Party.io
Step into the chaotic and fun-filled world of Party.io, a thrilling entry in the popular .io genre that perfectly blends the excitement of battle games with the intense suspense of survival games. In Party.io, you'll go head-to-head with players from around the globe in a high-stakes battle royale played out on a rapidly shrinking platform.
As soon as you land on the party platform in Party.io, your pulse will quicken. The game is simple yet addictive, players must throw their opponents off the platform while avoiding being knocked out themselves. If you're thrown out, you lose. If you faint, you're an easy target to be tossed over the edge. The key here is to attack without leaving yourself open to counterattacks.
This ever-narrowing battleground creates a relentless and adrenaline-pumping sense of urgency. There's an exhilarating scramble for survival as space becomes increasingly scarce, and only one player can come out victorious. This unique blend of strategy and raw action sets Party.io apart from other .io games.
The controls are decidedly straightforward, leaving plenty of room for tactics and quick thinking rather than complex button sequences. As a result, victories feel earned and losses prompt instant rematches rather than frustration. Moreover, its incredible 3D graphics add a sense of depth and immersion not often found in .io games.
In a nutshell, Party.io is your invitation to an intense combat party where only the fastest and cleverest can survive. It's an exciting middle ground between casual gaming and competitive esports that offers countless hours of enjoyment. So hop onto the platform, dodge attacks, land punches, and try not to get thrown off! React faster! Join the fun at Party.io!
What are the best online games?