Parmesan Partisan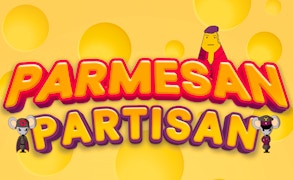 Parmesan Partisan
Description
In Parmesan Partisan, you are cast into the role of a brave cheese defender, warding off an invasion of ravenous rats. The fate of your cheesy nation rests on your shoulders as you wield your trusty shotgun and fend off the threat. Engage in this relentless battle against cheese-craving rodents, and become the hero your people need!
How to play
To play Parmesan Partisan, use your mouse or touchpad to aim your weapon, then click or tap to fire. Your goal is to eliminate as many rats as possible before they consume all of the cheese. Strategically use power-ups and special abilities to increase damage and repel more attackers to progress through each level.
Tips and Tricks
Always be mindful of how many rats are on screen; it's easy to get overwhelmed if not managed properly. Power-ups significantly boost your firepower, so use them wisely! Aim for multiple kills with a single shot and always prioritize the rushing rodents.
Features
Demanding arcade-style gameplay, requiring quick reflexes and strategy.
Engaging storyline centered around defending an entire nation.
Varied levels with increasing difficulty.
Strategically implement power-ups for an edge in fights.
Aesthetically pleasing graphics coupled with entertaining audio cues.
What are the best online games?