Parking Fury 3D: Bounty Hunter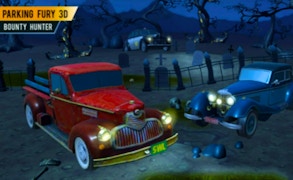 Parking Fury 3D: Bounty Hunter
Delving into the bustling world of car games, driving enthusiasts will quickly discover a jewel of a find - the exhilarating Parking Fury 3D: Bounty Hunter. This gem of a game straddles the line between thrilling driving games and adrenaline-fueled police games, planting you firmly in the driver's seat as both a precision driver and a bounty hunter.
In this dynamic game, you're immersed in a densely packed cityscape, cars streaming on either side as you masterfully navigate the urban jungle. Your mission is twofold - delivering high-end supercars to exacting customers while evading the ever-watchful police. As a well-designed variation of parking games, Parking Fury 3D requires precision, reflexes, and astute attention to detail, ensuring not a single scratch mars your precious cargo.
This isn't your average car chase game! It's more: it's about stealthy evasion, it's about calculated risks, it's about being the bravest bounty hunter leaving no room for errors. Each level will engage your senses and challenge your skills in an unending rush of excitement that leaves players yearning for more.
Unleash your inner speed demon with Parking Fury 3D: Bounty Hunter, a gem among driving and police games that merges seamless controls with stellar graphics. The stakes are high, the challenges are many, but if precision driving gets your motor revving, you'll be hard-pressed to find anything that compares to Parking Fury 3D.
Perfect for thrill-seekers looking to test their abilities in some seriously challenging scenarios - this game will undoubtedly make its mark amongst driving enthusiasts ready to embrace their bounty hunting potential.
What are the best online games?