Parking Fury 3D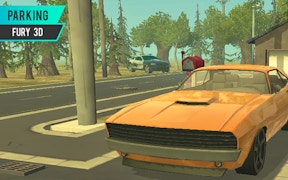 Parking Fury 3D
Make way for the adrenaline-pumped, engaging experience offered by one of the most unique car games on the market, Parking Fury 3D. This game smashes the conventional mold of driving games, presenting an immersive and engaging gaming environment that will keep you at the edge of your seat.
In Parking Fury 3D, it's not just about burning tires and flying through finish lines. The game challenges you to navigate through a bustling city, deftly handling your vehicle while being relentlessly pursued by determined police. As an exhilarating blend of both parking games and police games, Parking Fury 3D gives you a perfect rush, testing both your driving skills and strategic thinking.
The controls are intuitive and highly responsive, ensuring seamless interaction with every twist and turn. Each aspect of the game is designed to keep you on your toes, from evading relentless police pursuits to carefully parking your car amidst the urban chaos.
The graphics are nothing short of impressive. The vibrant city life is beautifully illustrated with life-like precision and palpable ambiance. The sounds convey an authentic city rhythm that elevates your gaming experience to a new level.
In conclusion, if you're seeking an untraditional racing experience that tests more than just your speed, check out Parking Fury 3D. Filled with action, strategy, and unique challenges, it's an exciting journey through a dynamic cityscape where every corner holds a new surprise. Embark on this thrilling ride today!
What are the best online games?