Paper Monster Truck Race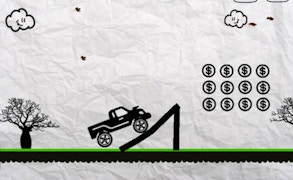 Paper Monster Truck Race
Immerse yourself in the exhilarating world of Paper Monster Truck Race, a gaming experience that sets the bar high for car games and makes a roaring entry into the universe of truck games. Here, in this captivating driving HTML5 game, you don't just drive; you compete, you collect, and most importantly, you conquer.
Your objective? To collect as many coins as possible and upgrade your monster truck, because let's face it - no one aims to be second-best in the fast-paced world of driving games. But beware - obstacles await. Whether it's boxes, ragdoll, or ball that block your path, have no fear. Simply use your mouse or tap on the screen to overcome these hurdles. No time limits, no rush - just pure fun.
The graphics are lively and engaging; they remind the gamer that this is a fun world with a competitive edge. The gameplay is smooth with intuitive controls that will have you maneuvering like a pro within minutes of playing. Each level adds an extra layer of complexity that keeps gamers returning for more.
You might think you've seen it all with Skill Games, but Paper Monster Truck Race raises the stakes with its engaging gameplay and seamless controls. A standout feature is its user-friendliness – making it suitable for players of all ages who are ready to hit the road and blaze their own trail.
The allure of Paper Monster Truck Race lies in its simplicity coupled with depth. It's much more than steering wheels and crossing lines; it's about strategy, instinctive reactions, and most importantly, having a blast while doing so. So buckle up gamers! Enjoy the ride with Paper Monster Truck Race - where passion meets precision.
What are the best online games?