Paper Block 2048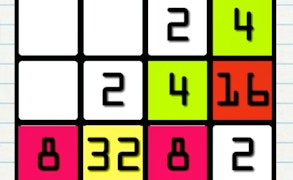 Paper Block 2048
For fans of 2048 games, brain games, block games, number games, and math games, the puzzle game Paper Block 2048 presents an alluring challenge that will captivate your attention and test your strategic thinking skills.
This superb offering in the realm of block and number games alike boasts a minimalist design that cleverly strips away any distracting frills, leaving players squarely focused on the task at hand - merging blocks with identical numerical values. With each union formed, you're one step closer to achieving the prized '2048 tile'. But don't be fooled by its simple premise; Paper Block 2048 is an addictive game that will keep you coming back for more.
The game mechanics couldn't be simpler, two tiles bearing the same number merge into one when they collide. This straightforward rule belies the deeply strategic and intellectually stimulating nature of this immensely engaging brain game. It's like merging two similar ideas into a profound concept in a brainstorming session. This cerebral punch creates an irresistible allure for lovers of math games.
Every move matters in this Puzzle game. Each swipe can either inch you closer to victory or plunge you into defeat. The thrill of chasing after the elusive '2048 tile' creates a tense but exhilarating atmosphere that keeps you on your toes with every single move.
In conclusion, Paper Block 2048 combines sleek, minimalist graphics with a captivatingly simple yet challenging gameplay mechanic to deliver an addictive puzzle experience that will appeal not just to fans of 2048 games, but also to those who love engaging their minds with stimulating brain and math games. Whether you're chasing high scores or simply enjoying the satisfaction of forming higher numbered tiles, this engrossing number game is sure to entertain. Choose your moves wisely - the '2048 tile' awaits!
What are the best online games?