Panda Jewels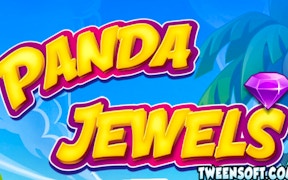 Panda Jewels
Description
Embark on a jewel-collecting adventure in Panda Jewels, a captivating match-3 online game filled with thrilling levels. In this game, you will be collecting gleaming gems across many stages, providing addictively fun gameplay that will keep you glued to your screen. Your goal is to match three or more similar items by tapping and dragging them to form a line. Each successfully made match results in the jewels blasting away, rewarding you with points and progressing the game.
How to Play
To play Panda Jewels, simply tap on a jewel and drag it across the screen to form a line with matching gems. Matching at least three similar jewels makes them blast and adds some points to your score. The quicker you reach the level's goal, the higher your score will be. Additionally, special rewards occasionally appear during gameplay which can help you clear jewels faster.
Tips and Tricks
Pay close attention to special rewards that randomly pop up—they can significantly speed up your progress! Always aim for larger combinations of jewels as they reward more points. Also, planning ahead and identifying potential matches can greatly enhance your scores and hasten your progress through the levels.
Features
User-friendly Interface: Easy tapping and dragging mechanism for all ages.
Multiples Levels: Progress through many levels for endless fun.
Addictive Gameplay: Match-3 mechanism offers addictive gameplay.
Rewards: Special rewards help boost performance during gameplay.
Scoring System: The faster you complete the levels, the higher your score.
What are the best online games?