Pac-Rat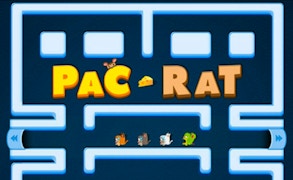 Pac-Rat
Welcome to our latest review where we dive into the captivating world of arcade games. Today, we delve into the charming and addictive realm of Pac-Rat, a delightful twist on classic retro games that takes us back to a simpler time in gaming.
This game, designed with HTML5, offers an exhilarating test of skill and wits as you guide a hungry rodent on its quest for cheese. It surely ranks high among both skill games and animal games, merging arcade-style play with cutesy graphics and thrilling gameplay.
One of the key appeals of Pac-Rat is its pure simplicity. Fashioned in the style of iconic retro games, it harks back to the charm of old-school gaming while adding unique modern-day elements. This nostalgia-inducing game perfectly combines the charm of retro games with the fun-filled premise common in animal games.
In Pac-Rat, every piece of cheese nibbled brings you closer to victory whilst hungry cats lurk in every corner waiting to pounce. The thrill lies not just in finding the cheese but also in skillfully avoiding these perilous feline predators – a pulse-racing challenge that keeps gamers on their toes.
The difficulty level escalates as you progress, demanding quick reflexes and strategic planning – a testament to why Pac-Rat is such a hit amongst fans of skill games. Furthermore, this enchanting arcade game boasts vibrant visuals and catchy soundtracks that enhance your overall gaming experience.
In conclusion, Pac-Rat is more than just a game – it's a nostalgic trip down memory lane that tests your skills and provides endless fun. Be warned though – this captivating blend of arcade action and cute animals may just become your new gaming obsession!
What are the best online games?