OvO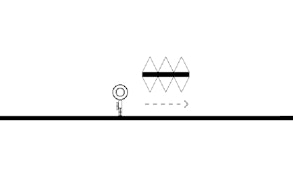 OvO
The point of platforming games is to present a clear-cut challenge of running and jumping as you try to get to the end like you would in Ovo. A relative of the stickman, the hero of this game shares the same athletic and physical skills despite having a big head which may throw off their balance. Although the character is capable, the challenge will be daunting and will require you to make the most precise movements just to get to the end, let alone quickly. Still, completing levels in this game will definitely provide proof of your platforming skill.
About Ovo
This seems like it was a game designed for professional and casual players. From the main screen, you can be connected to a community of players trying to speedrun the game. While the timer is a big feature in the game, it can be ignored if you just want to focus on the challenge of the platforming mechanics. There's definitely a feel that you need to develop in order to smoothly navigate the hazards and the different layouts. Whatever you do, don't end up playing on tilt otherwise you'll watch the hero's head roll more than you'd like to do so.
How to Play
Ovo is a 2D platforming game controlled entirely by the keyboard. If you want, you can change the inputs from the settings menu on the start screen.
Controls
Up Arrow - Jump
Left Arrow - Move Left
Right Arrow - Move Right
Down Arrow - Slide (while running), Smash (while jumping), and Dive (while running and jumping)
R - Reset Level
Ctrl + R - Reset Mode
The goal of the game is to reach the end of each level, marked by a tall flag. Throughout each level are coins that you can collect for completion. The timer in the top right corner will track how long it takes you to complete levels, but will not prevent you from finishing the game. The main hazards in each level are pitfalls and spikes which will kill the hero on contact. Whenever you die, you'll be sent back to the start of the level. You can also find light-colored sections that can be smashed through and springs that launch you into the air on contact (except when you smash them). There will also be many vertical sections where you'll need to wall-jump in order to climb them.
Tips and Tricks
This may seem like a simple game at first but understand that you will need to master well-timed and precise movements in order to make it through. You should also note that the hero doesn't have float-like properties and can fall very quickly. Take this into account when approaching particularly dangerous sections.

Ovo Game Modes
It seems like the game wants to help people get better at playing platform games and provides two different modes to achieve that end.
Hard Mode - This presents a harder challenge where every movement needs to be on point and levels are more complex.
Advanced Mode - A support mode that provides you with level replays and lets you toggle the Debug function by pressing F2.

Game Details
Developer: Dedra
Platforms: Web Browser (PC and mobile) and Android
Languages: English

Gameplay Footage
FAQ
Can I play Ovo on mobile?
The game is mostly known for being a browser game, but it recently became available on the Play Store making it possible to play it on Android devices.

Is this considered a hard game?
Even for those familiar with 2D platforming games, Ovo can be quite difficult, especially for those who are more familiar with playing on controllers than keyboards.
Games similar to Ovo
From the tone and gameplay, this title will be lurking in the Arcade and Platformer Games categories on GamePix. Other titles include Music Rush, Drawclimber, Neon King, and Foxyland.
What are the best online games?