Orbits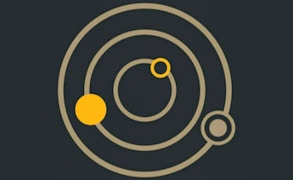 Orbits
Immerse yourself in the endlessly engaging universe of Orbits, one of the most eloquently designed arcade games that truly challenges your expertise in ball games. This is not just about bouncing balls, it's about strategy, precision and timing.
The gameplay involves a vibrant yellow ball that you have complete control over. This ball, your virtual avatar, travels through fascinating circles of orbit, a journey that is as thrilling as it is intricate. Every orbit is a new challenge, each with its own set of balls that you must masterfully avoid. This is the heart of Orbits - a test of your navigation skills and reflexes. Fail this test and face an immediate crash with the other orbit balls.
But Orbits isn't just about survival - it's also about victory. Triumph comes in the form of rings - glittering golden hoops that appear within each circle of orbit. Your mission? Collect them all before making any collisions. Each ring collected means more points on your scorecard. The goal here isn't just to play the game but also to dominate the leaderboard in what can easily be considered one of the most addictive games.
Put simply, Orbits is a dynamic combination of dexterity in skill games and the thrill inherent in arcade ball games. Traversing through challenging orbits while simultaneously collecting rings can be likened to walking on a tightrope while juggling - it requires balance, focus and aptitude to do well.
In conclusion, Orbits offers gamers an innovative take on popular ball games coupled with polished graphics and smooth gameplay mechanics that can ensure hours of fun-filled gaming experience.
What are the best online games?