Orange Bubbles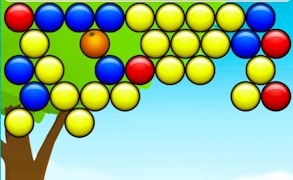 Orange Bubbles
If you're a fan of Bubble Shooter Games or ball games in general, then get ready to lose yourself in the immersive world of Orange Bubbles. This arcade-style game merges the thrill of bubble shooting with the satisfaction of fruit harvesting to create an experience that's as addictive as it is unique.
At its core, Orange Bubbles is about precision, prediction and pace. The objective is straightforward - shoot the bubbles and combine at least 3 of the same color to remove them from the field. But if you think this sounds simple, think again! Each level ups the ante, challenging your reflexes and your strategy-making skills. The clever twist in this game? Dropping the oranges to complete a level.
The gameplay is smooth and responsive, allowing you to both plan your shots and react quickly when things don't go according to plan. You'll find yourself expertly angling shots, creating chain reactions for massive scores, and trying to drop as many oranges as you can.
The question that Orange Bubbles ultimately asks is not how many oranges can you shoot, but how many fruits can you harvest? It's a subtle shift in perspective that adds an extra layer of depth and strategy to what could just be another clone in a sea of bubble shooter games.
The graphics are vibrant and nicely detailed, making each bubble pop satisfyingly on screen while the background creates an attractive environment. Every level brings fresh challenges as patterns become more complex, encouraging players to form new strategies.
In conclusion, Orange Bubbles offers more than just your average Bubble Shooter Game, it's a refreshing twist on ball games, providing endless hours of fun for gamers of all ages. Try it today - let's see how many fruits can YOU harvest?
What are the best online games?