Optical Illusion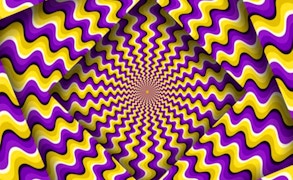 Optical Illusion
Awaken your senses and kickstart your neurons with the arcade game everyone's talking about. Optical Illusion, the latest sensation in the genre of brain games, offers a thrilling ride into a world of mind-bending puzzles and eye-fooling trickery that is guaranteed to entertain while also boosting your cerebral processing power.
The game prides itself with 8 curiously challenging optical illusions. Each level in this exciting rollercoaster ride of an arcade game leaves you spellbound, questioning reality, and coming back for more. Designed to awaken the dormant parts of your brain, Optical Illusion adds a twist to traditional fun games, morphing them into a spine-tingling adventure aimed at gamers willing to push their mental boundaries.
Every illusion presents an opportunity to dive deeper into the enigmatic world of visual perception and cognitive interpretation, a true testament to the engaging nature of this masterpiece. The developers have masterfully crafted an environment that initiates an intellectual stimulus like no other, setting it apart from typical arcade games.
The intrigue, thrill and challenge - all rolled into one mesmerizing package is what puts Optical Illusion high up on any avid gamer's bucket list. It's more than a game; it's an interactive exploration of our brain's capacity to perceive and interpret - making it more than worthy addition in the gaming universe.
So for those seeking a fun-filled adventure filled with suspense, mystery, and intrigue - look no further! Embrace the delightful challenge that awaits you in Optical Illusion, where every moment is guaranteed to keep your mind racing and your heart pounding from start to finish.
What are the best online games?
TAGS