Onet Fruit Classic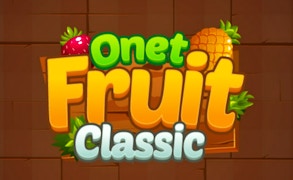 Onet Fruit Classic
If you're a fan of Mahjong games, you'll be delighted with a fresh twist on the classic genre in the form of Onet Fruit Classic. This game takes the strategy and patience inherent in traditional Mahjong, and infuses it with a bright, engaging interface filled with colorful, delectable fruit.
As you delve into the world of Onet Fruit Classic, you'll find yourself lost in a fun and relaxing pair puzzle solving game. With each level, your task is to match pairs of similar fruit. The challenge here lies not only in identifying pairs, but also in navigating the board strategically to ensure that each pair can be connected within a specified number of turns.
Everything about Onet Fruit Classic is designed to keep your brain engaged, yet relaxed. The gameplay is challenging enough to keep you enthralled, but not so much that it becomes frustrating. It strikes that perfect balance between strategy and relaxation that so many Mahjong games strive for.
The vibrant colors and captivating graphics serve as an added bonus to an already engaging game. Every element in the visual design seems meticulously crafted to provide a pleasing aesthetic experience.
In conclusion, if you love Mahjong games, Onet Fruit Classic is sure to become your new favorite pastime. Its combination of fun gameplay and beautiful design makes it a standout among pair puzzle games. It's more than just a game - it's an experience worth savoring and revisiting time and time again.
Dive into the delicious world of Onet Fruit Classic today and get caught up in its sweet appeal!
What are the best online games?
Tags