Om Nom Connect Christmas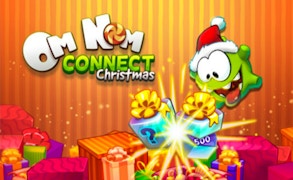 Om Nom Connect Christmas
Unleash your inner champion in the enthralling world of Om Nom Connect Christmas, a mesmerizing entry in the realm of animal games and mahjong games. This engaging board game features Om Nom, your lovable green monster, as he invites his friends for a Christmas candy feast! It's a strategic challenge that will test your wit while invoking Christmas jollies.
The addictive gameplay is highlighted by the clever blend of cut-the-rope-and-friends mechanics with the traditional mahjong matching system. By connecting similar cute monsters or candies, you ensure Om Nom's Christmas bash is a hit. But watch out, these candies and jolly beasts are always seeking new ways to block your path, creating a dynamic and exciting gameplay landscape.
The charm lies not just in its core mechanics but also in the introduction of power-ups. Stuck in a tough spot? Grab that magnifying glass to locate matching beasts or candies. If that fails, summon the powers of the 'Om Nom Shuffle', scattering all elements across the board for a fresh perspective! It's strategic galore, wrapped in an adorable package.
The success of your festive gathering depends on how high you can notch up that score! So whether you're into animal games looking for festive fun or obsessed with mahjong games craving for unusual twists—Om Nom Connect Christmas has got you covered!
Hop onto this captivating adventure with Om Nom and help him spread Christmas cheer among his friends. Be part of this delightful quest while exercising your gray cells. Enjoyment awaits as you embark on an unprecedented journey in the universe of innovative board games.
What are the best online games?