OffRoad Truck Simulator Hill Climb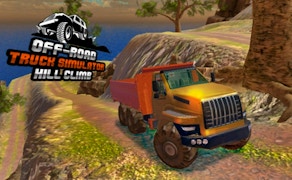 OffRoad Truck Simulator Hill Climb
Prepare yourself to embrace a thrilling, action-packed journey in the riveting world of OffRoad Truck Simulator Hill Climb, an unparalleled blend of driving games and simulator games that pushes the boundaries of conventional gaming. This standout game seamlessly fuses the exhilaration of truck games and parking games coupled with unprecedented realism for a truly immersive off-road experience.
As players, you are thrust into an environmentally conscious narrative, where your pivotal role revolves around transporting waste barrels to disposal points. Yet, this is no leisurely drive in the park. The challenge intensifies as you strive to avoid harm to nature by keeping these barrels intact whilst battling ominous rough terrains. The stakes are high as one jarring bump could spell disaster for your precious cargo.
The game's commitment to realistic physics sets it apart from other driving games, engrossing its players in a relentless struggle against formidable off-road hurdles. The ultra-graphics are jaw-droppingly authentic, creating an environment that breathes life into every pixel. From the intricate details of the powerful trucks to the rugged beauty of the surrounding landscapes - every visual element has been crafted with meticulous precision.
OffRoad Truck Simulator Hill Climb is far more sophisticated than typical truck games. A selection of 4 unique trucks elevates gameplay; each vehicle offering distinctive characteristics that players can harness to improve their barrel-carrying capacity and, consequently, their earnings.
Inspired by classic parking games yet pushing simulator games' limits, OffRoad Truck Simulator Hill Climb presents an intricately designed reward system that links your income with your performance. This reward-based mechanic not only incites competitive spirit but also promotes strategic planning - deciding when to save or splurge money on newer trucks.
This game is a must-play for enthusiasts seeking the thrills of off-road games augmented with the complexity and strategy found in top-tier simulator games.
What are the best online games?