OffRoad Racing Adventure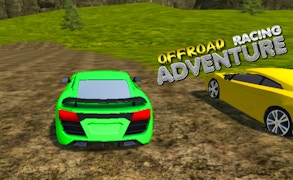 OffRoad Racing Adventure
Unleash your raw, untamed skill on the wild frontiers of virtual terrain with the OffRoad Racing Adventure, a game that has successfully redefined the ethos of traditional car games and flung open the doors to a thrilling new world.
The fearless call of wide-open spaces and inhospitable terrains, free from the shackles of glossy city highways that mark most driving games, is what makes OffRoad Racing Adventure rocket past its competition. As you navigate brutally bumpy tracks and ruthless rivals in this time attack mode, every ounce of your driving abilities will be challenged.
The game mechanics are simple yet immersive. The controls – WASD or Arrow keys – are intuitive; they instantly sync with your adrenaline-fueled instincts as you tear across rugged landscapes. The raw power at your fingertips as you maneuver through treacherous terrain is exhilarating, making OffRoad Racing Adventure a standout among Offroad games.
Pit yourself against merciless terrains and relentless competitors, for there's more at stake than just reaching your destination. Survival becomes an urgent necessity as well as a thrilling challenge in this riveting off-road race.
Ultimately, OffRoad Racing Adventure champions not just speed but also precision, control, and audacious tenacity. If you're a gamer who enjoys pushing your skills to the edge, this game offers an unmatched blend of excitement and realism.
In conclusion, whether you're looking to elevate your gaming prowess or seeking adrenaline-pumping entertainment in your leisure time, OffRoad Racing Adventure emerges as an undisputed titan in the realm of car games and driving games alike.
What are the best online games?