Oddbods Soccer Challenge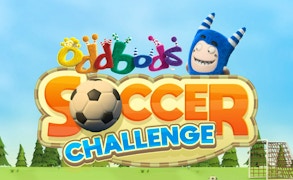 Oddbods Soccer Challenge
Welcome to the exciting world of Oddbods Soccer Challenge, a vibrant addition to the ball games and soccer games catalogue. This game is guaranteed to bring a thrilling soccer experience to your fingertips and keep fans of the sport locked in for hours on end.
In Oddbods Soccer Challenge, you are thrown into a hilarious, animated universe featuring your beloved Oddbods characters. Every kick sends you spiralling deeper into a fascinating mix of strategy and agility, making this game an excellent go-to option among various Games for Kids.
The oddly charming Oddbods characters – Fuse, Bubbles, Pogo, Zee, Slick, Jeff and Newt – come alive on the playing field each with their unique characteristics. Whether you're competing against them or playing alongside them, these characters are sure to leave their distinct mark on your gaming experience.
Incredibly engaging with over 60 levels that intensify as you progress, Oddbods Soccer Challenge consistently delivers a fresh dose of fun. The promise of more levels being added soon only fuels the anticipation and keeps you coming back for more.
In addition to its compelling gameplay, Oddbods Soccer Challenge also scores high on its interactivity quotient. The interactive tutorial ensures beginners can quickly get a grasp of the game's controls and mechanics.
The vivid appeal of this soccer game is further underscored by its catchy Oddbots theme song that perfectly captures the whimsical spirit of the game.
If you enjoy major football events like the World Cup, English Premier League, or even the esteemed UEFA Champions League, this game will not disappoint. In fact, it could very well be an entertaining digital spin-off that complements your soccer enthusiasm.
In summary, whether you're an ardent lover of soccer games or simply seeking entertaining games for kids; OddBods Soccer Challenge skillfully blends humor, strategy and sport in one captivating package.
What are the best online games?
Tags