Number Constellations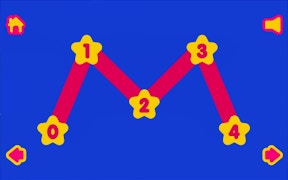 Number Constellations
Immerse yourself in the celestial world of Number Constellations, an extraordinary entrant in the realm of games for kids. Developed by Nau.kids, this educational game masterfully combines learning with fun, offering children a unique platform to learn numbers from 1 to 10.
In a bid to expand their numerical knowledge, young explorers are invited to connect all the digits in a sequence, forging mesmerizing constellations across the star-filled skies of early learning. Encased within this whimsical world of number games lie crucial lessons that will pave the way for future mathematical prowess.
The true beauty of Number Constellations, however, lies in its versatility, as it effortlessly morphs into an engaging tool for both mobile phones and tablets alike. This assurance of accessibility widens the game's appeal and increases its potential impact.
In an era where screen time is often vilified, Number Constellations stands as a testament to the transformative power of educational technology. As children dive into this galaxy of numbers and patterns, they're not just playing—they're developing crucial cognitive abilities linked to mathematical concepts.
As a number game for kids, Number Constellations features an intuitive interface that guides budding astronauts on their numerical voyage. The colorful design captivates young minds while the progressive difficulty levels ensure that interest remains piqued throughout.
In summary, Number Constellations is more than just a typical math game or number puzzle; it's a dynamic educational adventure waiting to be explored. Parents and educators seeking innovative ways to engage children in early math learning should consider adding this gem to their digital toolkit.
A star in the field of kids' puzzle games, an astronaut in advancing early childhood education - that's what Number Constellations embodies. So why wait? Blast off into this cosmos of curiosity today!
What are the best online games?