Number Composition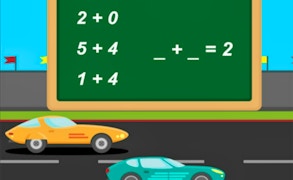 Number Composition
Welcome fellow gamers and puzzle enthusiasts, today we're diving into the colorful world of Number Composition, a game that uniquely merges the thrill of rally racing with pulse-pounding, brain-stimulating math challenges. It's the ultimate concoction of fun and learning designed to captivate, educate, and entertain young minds.
This isn't just another run-of-the-mill number game; it's a thrilling fusion of brain games, number games, and math games. Imagine the adrenaline rush of car rally but with a unique twist - instead of only navigating through tricky terrains, you're also maneuvering through numerical landscapes!
Number Composition isn't just an addictive entry in the realm of Games for Kids; it's a dynamic learning tool. While kids are revving their engines and zooming around corners, they're concurrently solving complex puzzles and equations. The game seamlessly blends enjoyment with education, making math not only accessible but also immensely enjoyable.
The charming visuals make this game a vibrant addition to the category of learning games. From the vibrant cars to the creatively designed numerical tracks, it's an eye-catching spectacle that keeps kids engaged while subtly teaching them about number composition.
In this perfect blend of education and entertainment, your child isn't merely playing; they're learning - honing their mental acumen through play. It's not often that you stumble upon a game that makes learning addition as enjoyable as cruising in a supercharged race car. So strap in, hit the accelerator on your mathematical prowess, and get ready to zoom through the exciting world of Number Composition.
Suitable for kids who love adventure, have an affinity for numbers or even those with a need for speed! Step on the gas; let's turbocharge learning with this exhilarating take on car games!
What are the best online games?