Ninja Slicer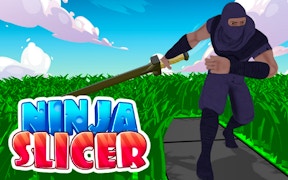 Ninja Slicer
If your brain craves some quality gaming time, or if you are simply a fan of brain games, then Ninja Slicer comes as an enticing proposition. A mesmerizing concoction of thought-provoking puzzles and action-packed swordplay, Ninja Slicer's kicker lies in its ability to keep you intrigued and thoroughly entertained.
Dive into the world of ninja games, where sharp wits meet sharp swords. Your task is simple yet challenging - slicing grass with your blade while dodging an array of obstacles. A true test for those seeking an adrenaline rush mixed with deep strategic elements that feel unique on every single playthrough.
Life can get stressful, but why worry when you have the soothing gameplay of Ninja Slicer? The game offers a stress-relieving experience that melts away your daily troubles in a heartbeat. The unpretentious controls, enhanced by a simple swipe-to-move interface make gameplay not only easy but also addictively fun.
The real magic in Ninja Slicer lies within its gameplay mechanics, seamlessly blending elements from sword games with classic puzzle-solving action. Its simplicity is deceptive - beneath the surface-level enjoyment lies a rich, complex game that demands your investment and rewards you with intense satisfaction.
In conclusion, Ninja Slicer isn't just another title in the long list of ninja games or sword games; it brings to the table an engagingly fresh take on brain games. Compete with friends and break new records as you embark on this slice-and-dice extravaganza. A treat for both mind and soul, Ninja Slicer is indeed a relaxing and interesting game worth spending your free time on!
What are the best online games?