Neon Tetrix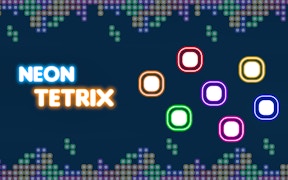 Neon Tetrix
Immerse yourself in a world of colors and engaging gameplay with Neon Tetrix. Drawing inspiration from the iconic Tetris, Neon Tetrix offers you an electrifying experience that tests your puzzle-solving skills in an entirely new light. A perfect blend of tetris games, block games and brain games, this game is designed to keep you on your toes as you strive to rack up as many points as possible.
Neon Tetrix follows the golden principle of "easy to learn, hard to master". Just like classic Tetris, blocks fall from above and your job is to arrange them in such a way that they fill up the empty spaces perfectly. Sounds easy right? Wrong! As the game progresses, the speed of falling blocks increases, making it a true test of your reflexes and decision-making abilities. A single misplaced block can ruin your chances of making that perfect line.
But where Neon Tetrix truly shines is its scoring system. Not only are you rewarded for completing lines, but consecutive completions also earn you combos which give bonus points. This encourages players to strategize and plan their moves well in advance, providing an added layer of depth to this seemingly simple game.
One cannot talk about Neon Tetrix without bringing up its visuals. The gameplay is brought to life by colorful neon graphics and exciting animations that are sure to keep you hooked for hours on end. Whether it's forming a perfect line or watching blocks shatter into bits, every action you take feels satisfying due to the visual feedback given by the game.
Overall, Neon Tetrix is an exciting addition to the world of puzzle games. It blends the simplicity of classic tetris with modern gameplay mechanics and stunning visuals to create a game worth checking out for any fan of puzzles. So brace yourself, sharpen your mind, good luck and have fun!
What are the best online games?