Neon Biker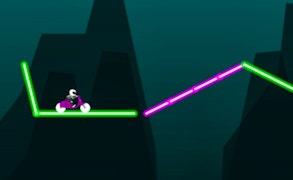 Neon Biker
Fasten your seatbelts, gamers! Welcome to a turbocharged experience like no other in the adrenaline-pumping world of Neon Biker. As one of the coolest motorcycle games on the market, Neon Biker takes you on a wild ride through an electrifying neon landscape where your only limit is the sky.
From the moment you rev up your engine in this high-octane game, you'll feel like you're part of an intense, alternative universe. Neon Biker feels different from typical dirt bike games, offering a unique twist to traditional driving games as you perform flips and stunts on never-ending roads that bend and flex with each level. The road is a runner — it's alive, it's kicking, and it's ready to challenge your limits.
The graphics are sublime, vibrant neon colors illuminate your path as you race at breakneck speeds. The controls are simple yet profound in their depth: allowing for smooth navigation while keeping the thrill of pulling off daring stunts just one flip away. In Neon Biker, every stunt is a potential masterpiece; every flip can etch your name in the annals of virtual driving greatness.
The game offers two fantastic modes. Are you seeking relentless thrill? Dive into endless levels mode where your survival skills are put to test in a world of boundless paths and infinite possibilities. Or perhaps you fancy more structured chaos? Then take on the 40 separate levels where each stage brings a new challenge to conquer.
In conclusion, if you're after heart-stopping exhilaration and breathtaking visuals that redefine driving games, look no further than Neon Biker. This game bridges the gap between reality and fantasy in a captivating fusion of speed, stunts, and neon glory that will keep players coming back for more. This is not just another motorcycle game; this is Neon Biker - where daring meets driving!
What are the best online games?