Neko Pachinko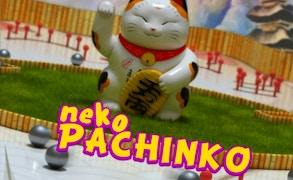 Neko Pachinko
Immerse yourself in the enchanting realm of Japanese amusement with the captivating arcade game, Neko Pachinko. This innovative concoction of ball games, slot games, and money games, all brought to life with a delightful fusion of fun and luck that is synonymous with classic casino games.
In Neko Pachinko, you're not just launching balls onto a board, but catapulting yourself into a whirlwind of joy and excitement. The core gameplay involves calculating the power of your throw, turning the wheel at the bottom, and witnessing as the balls ricochet off numerous pegs towards their destiny. Your primary objective? To get as many balls as possible into the lucky holes.
But where Neko Pachinko really shines is its enchanting bonus game. Here's where your aim gets crucial. If you manage to pocket three identical symbols in this bonus round, you unlock a special prize - an exhilarating triumph that adds to the game's intriguing build-up (Note: The prizes are virtual; they only exist within the whimsical world of Neko Pachinko).
The game's charm comes from its simplicity and its engaging structure that constantly keeps you on your toes. One moment you're meticulously adjusting your ball's trajectory, the next moment you're on the edge of your seat awaiting what symbol pops up.
In conclusion, Neko Pachinko is not just another entry in arcade gaming- it's an inventive blend of popular gaming genres. It offers players a taste of different worlds - from ball or slot to money and casino games. It invites everyone to savor this delightful cocktail of joyous gaming moments within its lively Japanese anime aesthetic.
What are the best online games?