My Fairytale Water Horse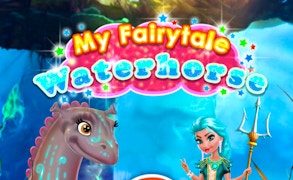 My Fairytale Water Horse
Dive into a mystical realm with My Fairytale Water Horse, a fantastical treat among animal games. It's a fairly enchanting game that paves its way into the hearts of kids and stands as one of the most captivating games for kids.
Why just live out fairytales, when you can nurture them? The game invites players to embark on an enchanted journey of caretaking a magical water horse. Be it feeding, grooming, or embellishing your mystical equine companion with gorgeous accessories, there is no dearth of fun activities in this mesmerizing world.
This is particularly irresistible for all those who adore animal-centric games. But it doesn't stop just there. The developers have taken painstaking efforts to ensure that it appeals to girls and hence, it doubles down as one of the most popular games for girls.
The game has successfully managed to blend fantasy with responsibilities, thereby imparting important values like empathy and duty conscientiously. Kids are not just having fun but simultaneously learning crucial life skills.
The graphics are absolutely flawless – vibrant colors that spoil your eyes with delight coupled with the smooth interface help in creating an immersive experience. One can't help but be spellbound by how lifelike the water horse appears; so much so that one can almost feel its soft mane and hear its gentle neigh.
My Fairytale Water Horse invites you to plunge into a realm of magic, responsibility, and amusement at every turn. Whether looking for something to keep your little ones engaged or searching for some virtual pet fun yourself, this game caters flawlessly to both scenarios.
In conclusion, My Fairytale Water Horse delivers an enchanting experience where creativity meets responsibility within the framework of an engaging story set in a visually stunning world. A must-try in the realm of animal games, perfect for kids and beloved by girls globally.
What are the best online games?