My Fairytale Deer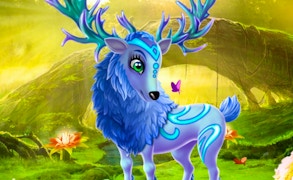 My Fairytale Deer
Step into a magical realm of fantasy and enchantment, with the delightful My Fairytale Deer. As one of the remarkable games for kids, this charming simulation opens up a world brimming with animal friends and delightful makeovers, infusing young hearts with joy and creativity.
The game takes players on an adventure through wonderful landscapes where young girls are tasked with caring for their very own fairy tale deer. Reverberating with the lovely call of animal games, My Fairytale Deer is not only a journey but also an eye-opening experience about taking care of a virtual pet.
Are you searching for the perfect games for girls? Say no more! My Fairytale Deer is certainly that and so much more. Girls will not only enjoy grooming their deer but also have fun exploring mystical forests and magical meadows. It's every girl's dream to have her own pet, and this game just provides that!
This game invites children to tap into their imaginative abilities. Moreover, it instills in them essential values like responsibility and empathy while making it all seem like a grand playtime. As kids tend to their very own beautiful fairytale deer, they learn the importance of nurturing and compassion towards animals.
No stone has been left unturned in making My Fairytale Deer as engaging as possible. The vibrant graphics create an immersive environment that children absolutely adore, and the easy controls ensure that they are never stuck in any level.
In conclusion, My Fairytale Deer is a must-have in your kid's collection of games. With its enchanting world and adorable characters, it guarantees an unforgettable gaming experience. So if you're looking for perfect games for kids, look no further!
What are the best online games?