My Dolphin Show 8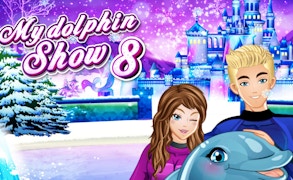 My Dolphin Show 8
Immerse yourself in the enchanting world of My Dolphin Show 8, an irresistibly charming entry in the dynamic genre of animal games that is sure to captivate and delight children of all ages. With its wondrous underwater landscapes and lovable aquatic characters, this game is a true gem among games for girls.
Dive into a realm brimming with vibrant sea creatures, stunning graphics and engrossing gameplay as you navigate your dolphin through a breathtaking array of 126 levels. Explore six diverse worlds teeming with adventures, each uniquely designed to provide hours of engaging entertainment. Kids will not only have fun but also develop their motor skills and problem-solving abilities.
As you embark on your aquatic journey, prepare to perform spectacular stunts such as doughnut jumping, making waves that will splash the audience, and even scoring incredible soccer goals! Each trick you successfully execute adds to the excitement and energy of the show, fostering a sense of accomplishment and enjoyment.
But it's not all just flipping and jumping in My Dolphin Show 8. The game also incorporates various mini-games designed to keep your dolphin motivated and pumped for more action. These delightful challenges add an extra layer of fun while contributing towards an engaging gaming experience.
To sum it up, My Dolphin Show 8 is a captivating fusion of fun, adventure and learning that sets new standards in the kid's gaming arena. Whether you're seeking a rewarding pastime for your little one or simply looking to dive into an inviting oceanic universe yourself, My Dolphin Show 8 is sure to make waves in your gaming routine. So put on your swimming goggles and jump right into this endless splashing extravaganza!
What are the best online games?