My Dolphin Show 7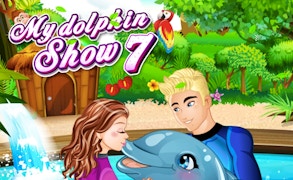 My Dolphin Show 7
Immerse yourself in the aquatic wonderland of My Dolphin Show 7, a mesmerizing addition to the realm of kids and animal games. As a vibrant dolphin trainer, you are tasked with creating a show-stopping spectacle that will keep your audience on their fins— or rather, their feet!
Dive headfirst into the exhilarating world of marine acrobatics at its most spectacular. This isn't your run-of-the-mill small aquarium home play; it's a grandiose water park extravaganza as majestic and awe-inspiring as the ones you'd find at Sea World or comparable destinations. With this in mind, prepare to be enchanted by the choreographed elegance of these magnificent creatures as they leap, flip, and twirl in captivating harmony.
Awaiting players is a vibrant new Jungle World with 18 challenging levels teeming with opportunities for showmanship. As you navigate each level, you'll be enamored by the stunning visuals and playful animations that echo the buoyant atmosphere of this joyous adventure. Every splash and swish captured beautifully to transport you directly into the heart of all the action.
Equally captivating is its appeal among Games for Girls, providing a feel-good, empowering narrative where they can take center stage as animal trainers. Combining education with fun gameplay mechanics, it provides an environment where girls can learn about marine life while having fun.
In true dedication to immersing players in all walks of game-play life, My Dolphin Show 7 appears not just as an animal game; it's an enchanting virtual playground where dreams can truly take flight - or more fittingly - dive deep underwater. So tune into this aquatic symphony and let these playful performers fill your world with giddy delight!
What are the best online games?