My Dolphin Show 5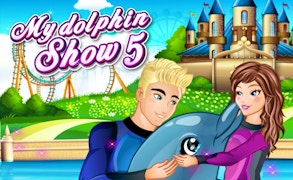 My Dolphin Show 5
Immerse yourself in the enchanting underwater world of My Dolphin Show 5, a must-play marvel in the realm of animal games and fun-filled Games for Girls. Crafted with a seamless blend of adventure, fun and creativity, this intriguing game effortlessly hooks players to exquisite performances of their favorite marine mammal - the intelligent and charming dolphin.
The game's premise is refreshingly simple: perform astonishing aquatic stunts to awe your virtual audience. Leap through hoops, perform graceful flips, and splash the excited spectators in a series of sensational shows. The more the crowd cheers, the better your score – so make every move count!
My Dolphin Show 5, as an impressive addition to animal games, holds an emphasis on learning and fun. What sets it apart from other Games for Girls is its educational value. While having fun, players get to learn more about these magnificent creatures in an interactive, vibrant environment which fosters learning through play.
The game delivers a delightful experience with the crisp graphics and captivating gameplay. The underwater stages are beautifully designed—the colors are bright and inviting, appealing especially to young eyes. The controls are smooth and intuitive, ensuring even the youngest gamers can easily navigate their dolphin through the show.
To sum up, My Dolphin Show 5 is an absolute delight for all those seeking a blend of learning with unadulterated entertainment in the world of animal games. Whether you're looking for Games for Girls or just an enjoyable gaming experience with our beloved underwater friends – this game will not disappoint!
What are the best online games?