Mummy Land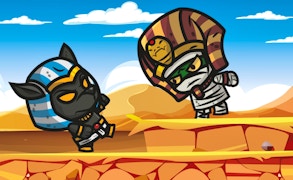 Mummy Land
Description
Welcome to Mummy Land, an engrossing online platformer game where your goal is to guide a mummy out of a complex pyramid. As you traverse through various levels, you will encounter treacherous traps and challenging puzzles. Your mettle will be tested as you gather precious treasures and power-ups, all while striving to survive in this ancient and mysterious pyramid.
How to Play
In Mummy Land, navigate with your keyboard's arrow keys and use space bar to make your mummy jump or interact with objects. You must successfully avoid every trap, solve perplexing puzzles, and collect golden treasures scattered throughout the levels. As you advance through the game, the difficulty intensifies.
Tips and Tricks
Always be on the lookout for traps that could be lurking anywhere in Mummy Land. Collect as many power-ups as possible to boost your survival chances. And remember, patience and sharp observation can unravel most puzzling challenges.
Features
A captivating online platformer set in a mysterious pyramid.
Multiple difficulty levels for both novice and experienced players.
An array of traps and puzzles to keep players engaged.
Collectible power-ups that enhance gameplay experience.
Treasure hunting adventure that tests players' strategic thinking and agility.
What are the best online games?